Current Projects
We have previously completed build projects in Hawea (outside of Wanaka), Governors Bay, Fernside, Rangiora, Diamond Harbour, Akaroa, and our bulk of projects on the Cashmere Hills.

We have an upcoming project in the Golden Bay area, so we are not limited by location, though the bulk of our building projects have been completed in the Canterbury, we are always happy to look at your project in locations throughout the South Island.

At Everitt Builders (formerly known as Construct Developments Ltd.), we are a small but focused team. Because of this fact, we can provide workable time frames to give you a clear idea of how long your build project will take, managing all aspects of build and supply while also providing regular updates on the current status of your home.

The bulk of our work has come from word of mouth, through recommendations from our previous clients that we are extremely grateful for. We are often tasked with building multiple homes for one client, as they come back to us for our reliability and outstanding service, focused on maintaining honest, open communication in all aspects of a job in progress. We have also been asked to undertake extensions and add-ons for previous build projects including modifications, sheds, decks, additions rooms, landscaping and more.

We are happy to advise and quote on any Residential building project from large architectural homes to apartment buildings and small rental properties or units.

At present we are still providing much of our knowledge and expertise towards Earthquake related home repairs, and are proud to have the opportunity to provide top quality repair and rebuild work for our fellow Cantabrians.

We hope that the working relationships that are created by doing any smaller jobs, lead to our customers being able to contact us for any ongoing work or future builds. We feel strongly about building relationships of trust and reliability through the expert workmanship we provide, complimented by open communication as a welcoming and highly experienced Christchurch based building company.
We are the same company, offering the same quality and focus as previous years, trading under the name name of Everitt Builders Limited, leaving behind our old name of Construct Developments Limited, to better reflect our family-run business under the ownership of Mark and Jenny Everitt.


Recently Completed Building Projects
Three Storey Architectural Home
We recently completed the build of this magnificent three storey, six thousand square foot architecturally designed home. This home is of superior quality, matched by none. It contains Rimu finishings and large entertainment areas.
The schist stone exterior, complimented by a plaster finish, gives the home a unique character that catches the eye of many a passerby.

This five bedroom quality home is fit for any magazine cover.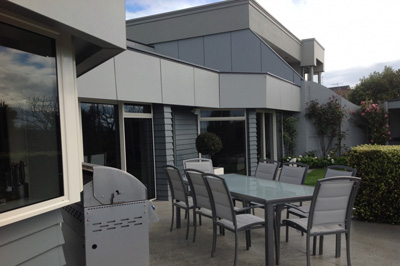 Fully renovated 1970's Home
Built in the 1970's, this home was renovated to a modern, contemporary family home. The interior of the home was completely reformed, including the installation of a new internal staircase which transformed the entrance. In addition we completed a kitchen refit into a modern kitchen design with granite bench and storage space to suit.
The living areas created an ambience of comfort with views from Mt Hutt to the Kaikoura Ranges.
Large bedroom areas with ensuites were added to suit a growing family.
Solid Concrete Block Hill Home
This enjoyably challenging solid concrete block hill home consisted of four thousand square feet, comprised of a central curved staircase, four bedroom open plan home with views from Mt Hutt to the Kaikouras.
This beautiful home was build as a family home with indoor spa and pool (spa room as shown) area plus garaging for caravan, boat and four cars.
This home was built using the hill as its mould and applying every available square meterage for comfortable living.


Full testimonials available on request.